TAMARIND OF LONDON SET TO OPEN AT CRYSTAL COVE PROMENADE
Sister to Michelin-Starred Indian restaurant from London Opens This Summer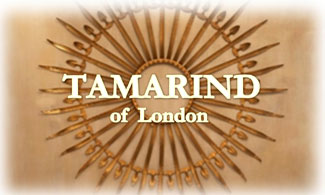 Newport Beach, California, February 23, 2011 – Irvine Company has announced that a highly acclaimed restaurant from London will open its first U.S. location this summer at Crystal Cove Promenade in Newport Coast. Tamarind of London, a sister restaurant to the Michelin-starred Tamarind in London's Mayfair, will serve Indian favorites as well as innovative and modern seasonal dishes in an upscale casual atmosphere.
Tamarind's dishes are derived from traditional Moghul cuisine where bread, fish, meat and game are cooked in the authentic tandoor oven style of North West India. Executive Chef Alfred Prasad, the youngest Indian chef to ever receive a Michelin star, applies a creative twist to these dishes. Prasad notes about his cuisine, "I treat original Indian dishes with only the most delicate touches, adding a zing but largely retaining their originality. I balance creativity with authenticity as much as possible to give our patrons the feel of great Indian food that hasn't been spoiled by modern versions of it."
"Tamarind's food is a world of flavor. It is a new enlightenment for those who thought they knew Indian food," said Randall Hiatt, President of Fessel International, a Costa Mesa-based restaurant consulting firm.
Tamarind's menu will include small plates such as Stuffed Grilled Potato Pancakes (spiced potato cakes with a filling of spinach with garlic and dried fenugreek leaves, drizzled with tamarind chutney) and Pan Seared Atlantic Scallops (delicately seasoned Diver scallops flavored with mixed peppercorns, fennel and star-anise, topped with oven roasted peppers.)
An assortment of kababs will include Ginger and Green Chile Chicken (supreme of chicken marinated with ginger, green chili, cream cheese, coriander stem and cardamom) and Spicy Papaya Lamb (tender lamb cutlets marinated with malt vinegar, garlic, papaya, paprika, ground spices and cream.)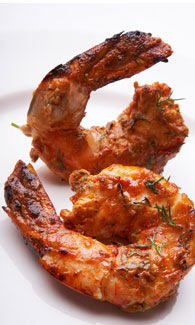 Among the curries will be Wok Fired Prawns (tiger prawns tossed with onions, tomatoes and mixed peppers finished with red chile flakes and toasted coriander), and Kashmiri Style Lamb Shank (slow-cooked lamb shank with whole spices, yoghurt, saffron and Kashmiri chiles.) Lunch specials will include a curry sampler and sandwiches such as the Grilled Portobello Mushroom Naan-Burger (marinated portobello mushroom topped with sundried tomato, leeks and fresh oregano, goat cheese, grilled zucchini and oven roasted tomato) and interesting salads.
Tamarind will also offer a wide array of vegetables, rice dishes, tandoor oven baked Naan (breads), and will feature 8-10 creative curries daily. The restaurant will have a full bar with an impressive wine list from around the world, as well as a selection of traditional Indian beverages.
As noted Chef Gordon Ramsay said: "The food (Tamarind) turns out is a million miles from standard chicken tikka masala fare. There aren't many Indian restaurants where you'll see sea bass, scallops or squid on the menu, and the spicing is so delicate that the individual flavors really come through."
The 144-seat restaurant will boast a beautiful contemporary Indian interior design and patio. It will feature a blend of India's rich design legacy and the resort feeling of Crystal Cove Promenade.
"For more than 15 years, Tamarind has been an exceptional restaurant in London and has helped change perceptions of Indian cuisine," said Keith Eyrich, President of Irvine Company Retail Properties. "Newport Beach has a proven track record for launching new and exclusive concepts to the local diner and we feel this is an ideal addition to Crystal Cove Promenade."
Tamarind of London's sister restaurant in London has been recognized with several top honors over the years, including Michelin stars from 2001 - 2011, and the 2005 Best of Britain award for Restaurant Achievement of the Year.
Tamarind of London will be open for lunch and dinner daily and will offer convenient valet parking. For more information, please visit www.tamarindrestaurant.com.
Crystal Cove Promenade, owned and managed by Irvine Company, is located at East Coast Highway and Crystal Heights Drive in Newport Coast. For a complete listing of stores, restaurants and services, please visit www.ShopTheIrvineCompany.com.
Irvine Company is a privately-held company based in Newport Beach, California. The company's retail portfolio includes Fashion Island, Irvine Spectrum Center and The Market Place, as well as neighborhood and community centers in Newport Beach and Irvine.
FOR IMMEDIATE RELEASE
MEDIA CONTACTS:
Irvine Company: Jane Gillespie (949) 733-2198 or Tricia Tensfeldt (949) 720-3113
Tamarind: Lisa Hiatt, Fessel International (714) 432-8300
© The Irvine Company LLC, 2011. All Rights Reserved. Fashion Island, Irvine Spectrum Center and Crystal Cove Promenade are trademarks of The Irvine Company.
We invite you to read our
privacy policy
.